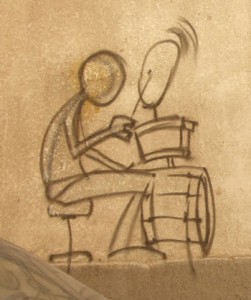 On the back wall of the Ahly sporting club on Zamalek, underneath revolutionary graffiti, a simple stick figure drums away. In the chaos of traffic, shouts of street vendors and slew of pedestrians he sits, bey tabel (he drums).
The 18 days came and went, he was covered in a cloak of darkness, engulfed by the colors of the revolution, and still bey tabel.
A new parliament sworn in, the religious wing makes its mark, a massacre at a football stadium and mayhem right in front of him.  He continues, bey tabel.
Now a new leader, the choas of traffic returns, street vendors and a slew of pedestrians.  Underneath the reds, whites and blacks, the murals of protestors shouting, the simple Egyptian bey tabel.